Walk to Armadale to Port Mor
Longest Distance of 3.25 Miles, Total Ascent 506ft
Possess these shores with me!
The winds and waves are troublesome
And here we may be free.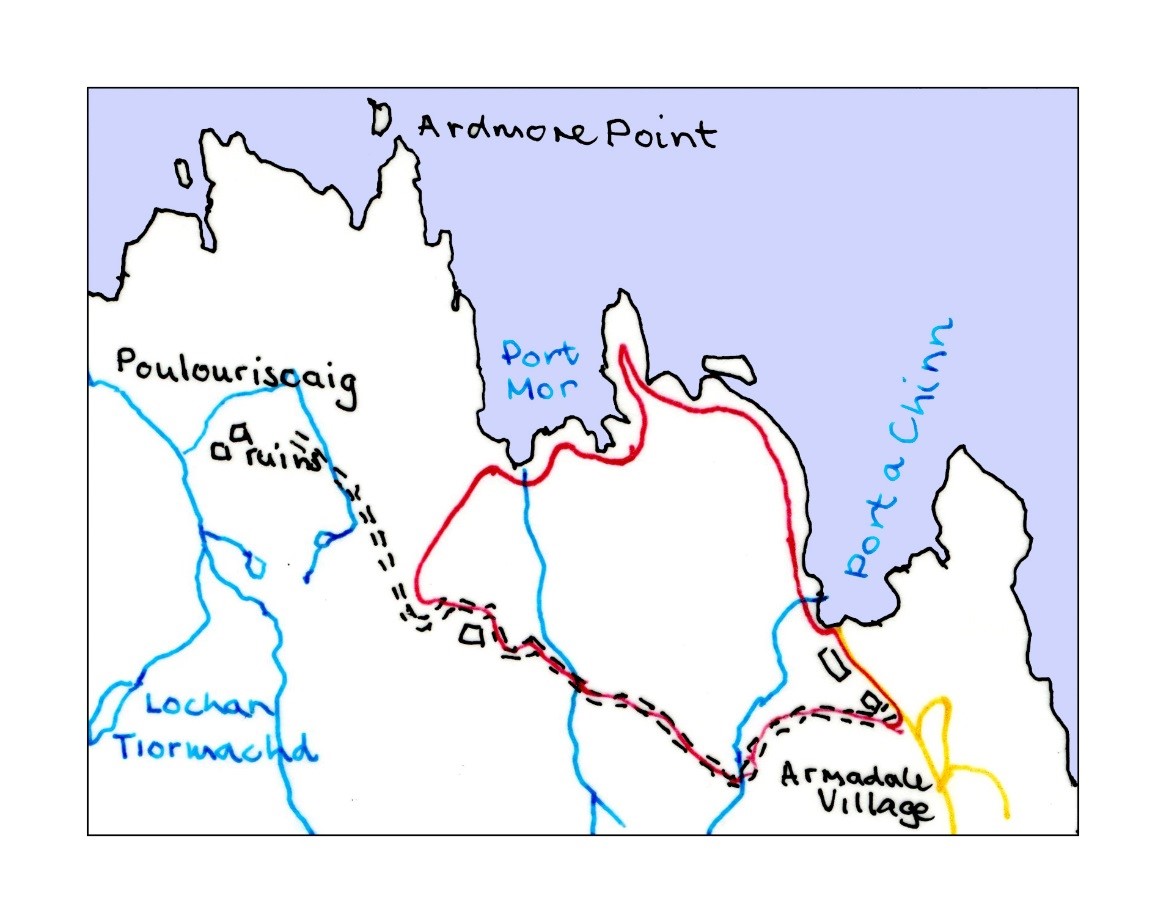 OS Grid Reference: NC 784 648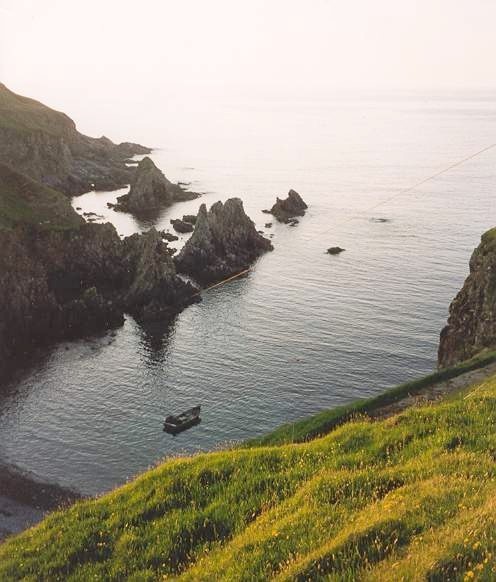 Armadale to Port Mor
Drive down the Armadale road to its very end. Park out of the way of the salmon fishery buildings. Once out of the car you have three alternatives;
(i) Go down the steep path to the stony shore and explore the rocks (picture above). You can pass through the third cave to find a hidden waterfall beyond. There are spectacular isolated rocks including one that we call the Cathedral Rock with its rose window. The tide will dictate how far round you can safely climb. Seabirds nest all along these cliffs and seals are often seen in the small bay where James (the Duke) Mackay moors his cobble. An Atlantic walrus visited this cove on 22nd March 2018, the first sighting of this creature in Scotland since 1954 (see Youtube coverage).
(ii) At the end of the road, near the winding tackle, go left round the edge and look for a small gate over to your right. Pass through it and down to where you can ford the burn. Follow the burn along the gully. You will see that this gully has its own micro-climate and contains a big variety of flowers and plants on its walls. Its shelter attracts many songbirds who complement the burn's own song. You can follow the burn to the right to where it tumbles over the waterfall mentioned in alternative i).
(iii) At the end of the road, go round the edge to the left, through the gate (as described above), cross the burn and follow the sheep track up above the gully. Turn right and keep above the bracken line walking along the high ground on the far side of the cove. Remain at that height and continue around the coast northwards. You will pass Gull Rock which is covered with seabirds in spring and summer. Cross a narrow neck of green land to come to Port Mor, the Big Port. This is a large, steep sided bay whose underlying rocks are laced with caves and arches and whose walls are hung with flowers all of which you will see as you walk round it. Fulmars nest on its wall and shags and eider ducks are often to be seen resting on the skerry of rocks in its centre. From Port Mor turn inland due west and join the Poulouriscaig track. Follow it down to the Salmon Bothy to re-join the road and find your car.  As you walk down, the village and the bay are laid out below you.